Houston County Teachers of the Year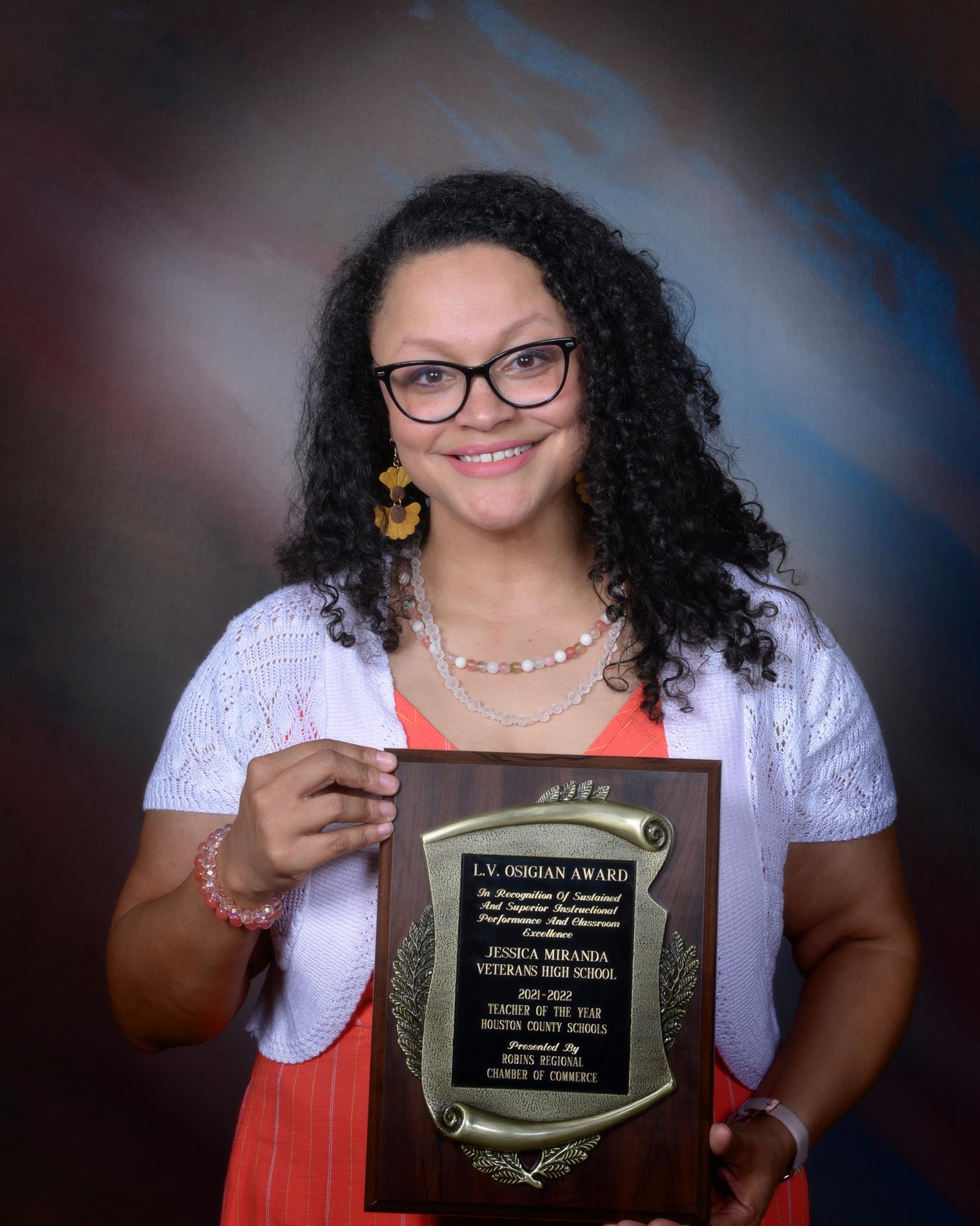 Mrs. Jessica Miranda of Veterans High School is the 2021-2022 Houston County Teacher of the Year.
Mrs. Jessica Miranda grew up travelling with her father's army career, so no one place was home until her parents settled in Centerville, Georgia. Outside of the classroom, she enjoys spending time with her family (her husband, two daughters, and dog Yoda), crafting, cooking, reading, and watching sports.
2021-2022 Teachers of the Year
Bryan Carrier - Warner Robins High School
Monica Troullier - Westside Elementary School
Debbie Garza - Pearl Stephens Elementary School
Stephanie Sanders - Lake Joy Elementary School
Bonaire Elementary - Ronzina Brown
Bonaire Middle - Renae Ferrari
Bonaire Primary - Danny Watt
C.B. Watson Primary - Kimberly McGhee
Centerville Elementary - Erika Kennedy
David Perdue Elementary - Robins Mills (Top 10)
David Perdue Primary - Angela Thrasher
Eagle Springs Elementary - Staci Pittman
Feagin Mill Middle - Maria Huckabee
Hilltop Elementary - Earnestine McRae (Top 10)
Houston County Career Academy - Candice Hollingshed
Houston County High - Randi Collier
Houston County WIN Academy - Rhonda Zellner (Top 10)
Huntington Middle - Otis Covington
Kings Chapel Elementary - Emily Clements
Lake Joy Elementary .- Stephanie Sanders (Top 5)
Lake Joy Primary - Jodi Short (Top 10)
Langston Road Elementary - Rachel Ervin
Lindsey Elementary - Michele Spradley
Matt Arthur Elementary .- Laura Leigh George
Miller Elementary - April Weaks
Morningside Elementary .- Michelle Hill
Mossy Creek Middle - Tamye Fitzgerald
Northside Elementary .- Marcie Williams
Northside High - Christi Johnson
Northside Middle - Robert Robbins
Parkwood Elementary - Chelsie Leininger
Pearl Stephens Elementary -Debbie Garza (Top 5)
Perry High - Evan Jones (Top 10)
Perry Middle - LaTondra Oliver
Quail Run Elementary - Rachel Boyd
Russell Elementary - Jaqueline Randall
Shirley Hills Elementary - Ali Buzzell
Thomson Middle - Leigh Barrett
Tucker Elementary - Audreia Jennings
Veterans High - Jessica Miranda (Teacher of the Year)
Warner Robins High - Bryan Carrier (Top 5)
Warner Robins Middle - Jamie Nash
Westside Elementary - Monica Troullier (Top 5)