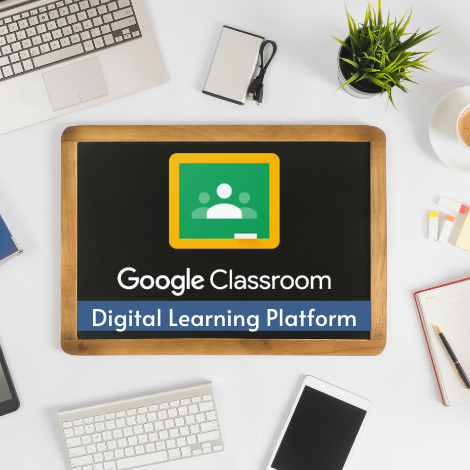 Students Begin Digital Learning via Google Classroom April 6
With schools closed due to COVID-19, teachers in the Houston County School District will begin delivering instruction to K-12 students via Google Classroom on April 6, 2020. Teachers will use this digital learning platform to provide their classroom students with learning objectives, assignments, and assessments.
As of Monday, April 6, parents are asked to ensure that their K-12 student(s) log on to Google Classroom to participate in classes, receive assignments and teacher feedback, and to take assessments. To access Google Classroom, students may use any device that can access the internet. They may connect to Classroom with a cell phone, iPod, iPad, Xbox, PlayStation, desktop computers, and Mac computers.
To read the complete news release and view information on Google Classroom, please follow this link.
Meals Provided Children during School Closure
The Houston County School District is offering meals at no charge for children while schools are closed due to the COVID-19 pandemic. As of Monday, March 30, the district will offer breakfast and lunch to any child up to 18 years of age. Children do not need to be enrolled in the Houston County School District to receive meals.
Two serving methods will be offered three days each week: Mondays; Wednesdays; and Fridays. Meals will be available at four schools between 11:00 a.m. and 1:00 p.m. in the car rider or bus lane; and district vans will deliver meals to select neighborhoods once a day on those three days.
Meals may be picked up from these four schools: Huntington Middle, Matt Arthur Elementary, Northside High, and Tucker Elementary.
For more details and versión en español, please visit https://www.hcbe.net/mealsforkids.
To read the complete news release and view meal details, please follow this link.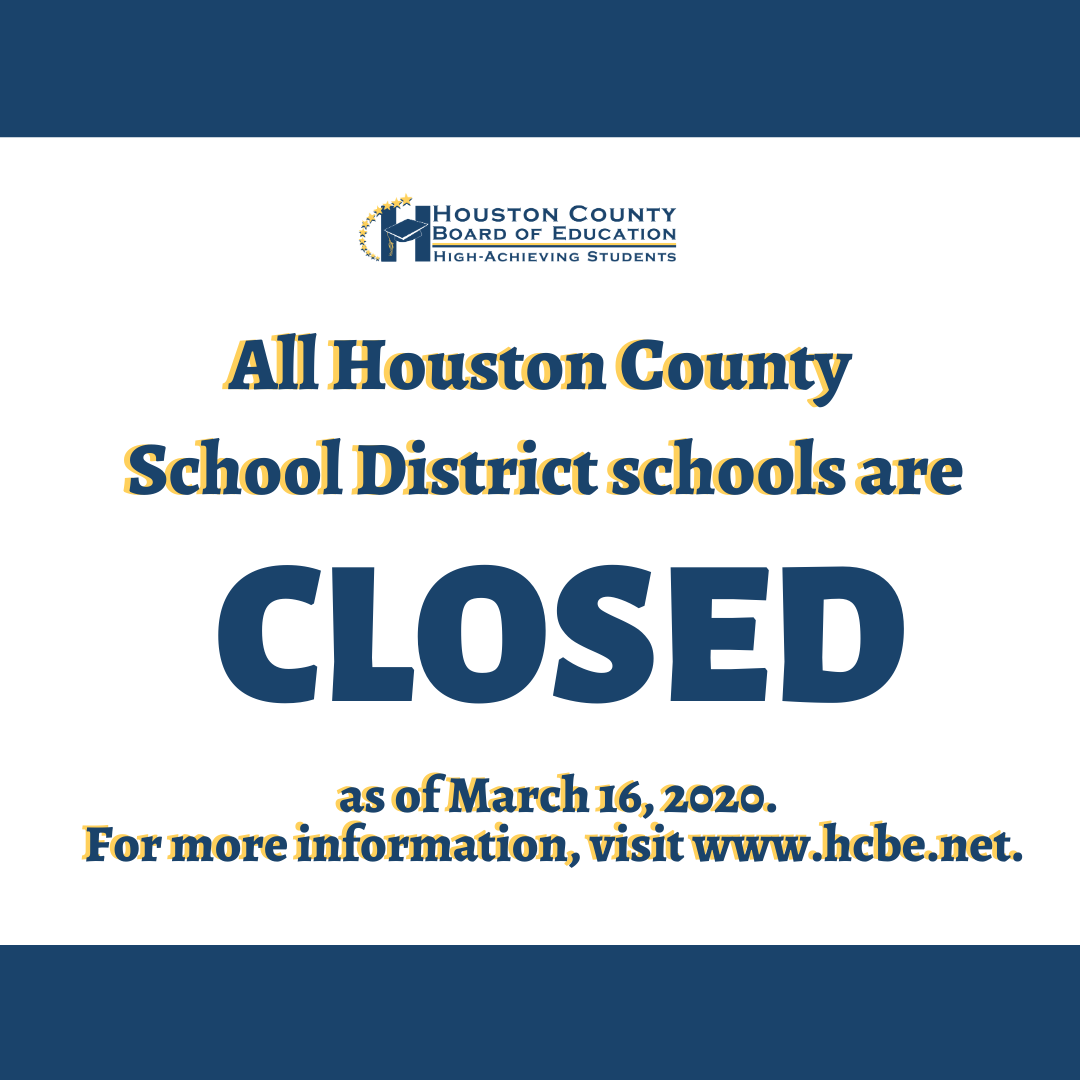 Schools Closed as of March 16 for Students and Staff
Due to recent changes relating to COVID-19 in our state, all Houston County schools will be closed as of Monday, March 16, 2020. The district will be closed county-side for all students and staff until further notice. Key and essential personnel who need to report to work will be contact by their supervisor.
Beginning Tuesday, March 17, the district will offer breakfast and lunch to their students during the closure at no charge.
To read the complete news release and view meal details, please follow this link.
Presenting the HCSD 2020 Valedictorians and Salutatorians
Houston County high schools have announced their valedictorian and salutatorian for the Classes of 2020. The top graduates are: Houston County High ~ Valedictorian Shivani Narain, Salutatorian Vishesh Patel; Northside High ~ Valedictorian Willow Truman, Salutatorian Colbert "Tre" Flagg, III; Perry High ~ Valedictorian Trevor Vandersall, Salutatorian Colson Jones; Veterans High ~ Valedictorian Isha Shah, Salutatorian Colton Walker; and Warner Robins High ~ Valedictorian Peyton Page, Salutatorian Shu Lin Zheng.
For more information about graduation, please visit https://www.hcbe.net/graduation.
To read the complete news release, please follow this link.
Houston County Sharks Win State Basketball Championship
The Houston County Sharks won the 2020 State Wheelchair Basketball Championship on March 6. The team played a tough, close game against the Henry County Hurricanes. Victory came in overtime when the Sharks scored a basket to win the American Association of Adapted Sports Program tournament with a final score of 23-22.
"I cannot brag enough about the Sharks and their 'no quit' attitude," exclaimed Coach Christy Jones. "The only time we had the lead in this game was in the first minute. After that, Henry took control of the game. At halftime, we talked and they decided right then and there that they were not going to throw in the towel. The second half they definitely came out with a new attitude and went to work, chiseling away at the other team's lead and playing their best defense of the year! I am so proud of this team!"
To read the complete news release, please follow this link.
Tucker Student Wins Elementary Oratorical Contest; Langston Road Wins 2nd; Quail Run 3rd
Seventeen fifth-graders from the Houston County School District's gifted and talented education classes competed in the Elementary School Oratorical Contest on March 6, 2020, at the central office in Perry. The topic this year was, "Just Imagine a World without Boundaries."
The 2019-2020 top orators are: 1st place – Livia Herbst, Tucker Elementary, Coach Victoria Mendoza; 2nd place – Katie Abara, Langston Road Elementary, Coach Christie Lehman; and 3rd place – Dalton Wiggins, Quail Run Elementary, Coach Kasey Hopkins.
To read the complete news release, please follow this link.
NHS Theatre Receives Top Honors at State Competition
Northside High School theatre department received top honors at the 2020 Georgia Thespian Conference held in Columbus, Ga. in February. They earned perfect scores from three professional theatre judges for their performance of "Wait for Me (Reprise)" from Hadestown. As a result, judges selected the group as featured performers in the Linda P. Wise Individual Events Showcase (IE) from among 500 other entries.
The cast and crew also reprised their fall 2019 one-act production of Urinetown for performances on the Mainstage of the conference; an honor bestowed on the best of the best. Urinetown was adjudicated in October for the opportunity to perform on the Mainstage at the conference and was selected as an honoree.
To read the complete news release, please follow this link.