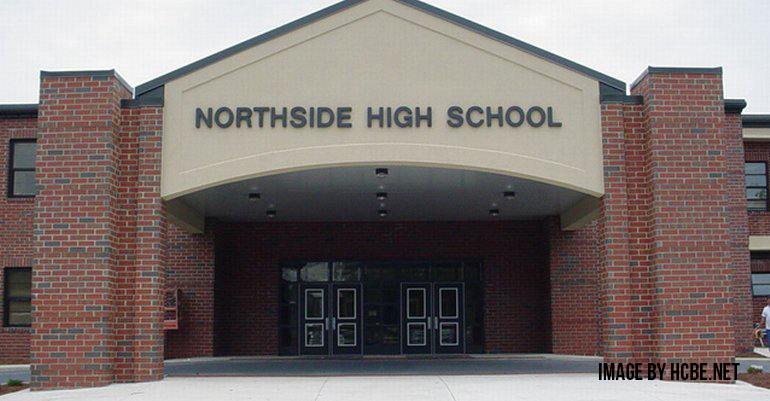 School Mission Statement

Our Mission is to produce high school graduates who are college/workforce ready.
Our Vision is to make every person in our school successful.
School Facts
First ROTC Unit in Houston County was formed at Northside High School in 1971.

The theater is named after Ray Horner, former drama instructor at Northside High.

Tabor Academy for 9th grade students was established in 2004.
School Awards
1988: Georgia School of Excellence

1993: Georgia School of Excellence
GHSA Awards
Cross Country State Champions: 1959

Football State Champions: 2006, 2007, 2014

Girls Basketball State Champions: 1967, 1968

Literary State Champions: 1969, 1976, 1978, 1979, 1981, 1982, 1987, 1989, 1991, 1992, 1994, 1995, 1996, 1997, 2000, 2001, 2003, 2004, 2007, 2008, 2013,

One Act State Champions: 2006, 2007, 2010, 2011, 2012, 2013, 2014, 2016

Swimming: 1956
School Principal History
1963-1964: H.M Fulbright

1964-1969: Milton Suthlerin

1969-1980: Matthew Arthur

1981-2001: Edward Dyson

2001-2006: Tim Scott

2006-2008: Robin Hines

2008-2011: Mark Scott

2011-2017: Greg Peavy

2017-2021: Jody Dean

2021-2023: Markeeta Clayton

2023-Current: Dustin Dykes
Completed School Improvements and Renovations
1980: Library Addition

1984: Classroom Addition

1986: Media Addition and School Renovation Phase 1

1988: School Renovation Phase 2

1989: HVAC and Electrical Upgrade

1990: Retrofit Roof and Auditorium Addition

1993: Drainage Improvements

1997: Baseball Field Addition

2000: 10 Classroom Addition

2002: Gym Roof Replacement

2007: Soccer Field Lighting and Sitework

2007: Parking Lot Addition

2008: Gymnasium Renovations

2018: 14 Classroom Addition

2020: Competition Gymnasium Addition

2022: HVAC Upgrades and Roof Replacement