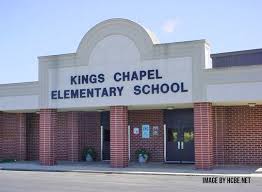 School Mission Statement

Our mission is to prepare all students to achieve their highest levels of learning through continuous growth.

Our vision is to be a premier school.
School Facts
The old Southside Elementary School building was moved to Kings Chapel Elementary in 1988.

From 1964-1999 the school was used for grades K-5.

From 1999-2007, the school served grades 2-5 and students.

In, 2007, the school served grades PreK-5 after Perry Primary School closed.
School Awards
1992: Georgia School of Excellence

2000 and 2001: Gail Maye Energy Award

2005: Georgia School of Excellence

2009: Title 1 Distinguished School with adequate yearly progress for seven consecutive years.

2022: National Blue Ribbon School
School Principal History
1964-1980: Herman Ragin

1980-1985: William H. Adams

1985-1993: Kim Schoening

1993-1999: Dave Crockett

1994-2004: Darryl Albritton

2004-2014: Paulette Tompkins

2014-2023: William Ray

2023-Current: Shelley Shillcutt
Complete School Improvements and Renovations
1988: Roof Replacement and Electrical Upgrades

1989: Moved Southside Elementary Facility to Kings Chapel Site

1992: Music, Art and PE Facility Addition

2005: Kitchen Addition and School Renovation

2007: 12 Classroom Addition

2008: Paving

2012: HVAC Upgrades

2012: Enhanced Security Upgrades

2013: Gymnasium Renovation

2018: Parking Lot Upgrades

2022-2023: HVAC Improvements