Eric P. Staples Memorial Building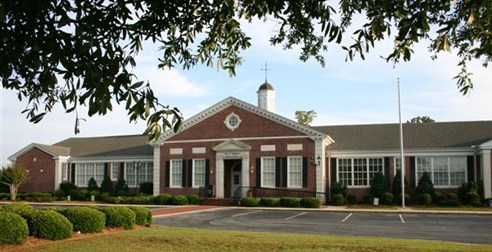 The Eric P. Staples Memorial Building currently serves at the Houston County Board of Education Central Office.



The Perry school was built in 1925. After a new high school was built on North Avenue, the class of 1956 was the last to graduate from the facility. Junior high classes were held at the old school until 1960, at which time the school became a book repository for the Houston County Board of Education (HCBOE).

In 1988, the building was over 60 years old and in serious disrepair. With the building facing possible demolition, Perry Mayor Jim Worrall made good on a campaign promise and was instrumental in saving the old school. Representative Larry Walker also came to the rescue and pumped two million dollars of state funding into renovation of the building. The HCBOE moved into the renovated building in the summer of 1996. The building also houses the Senator Sam Nunn Museum that was dedicated in September 1996.

In September 2005, the Perry High School Alumni launched a concerted drive, spearheaded by Billy Powell, to have the building named after their beloved and revered principal and coach, Eric P. Staples. Powell's proposal was met with a receptive ear by School Superintendent Danny Carpenter, a long time advocate and admirer of Mr. Staples. Subsequently, Carpenter presented to Board members the merits of the proposal and urged its passage. As a result, the HCBOE, on October 11, 2005, voted unanimously to name the building after Mr. Staples.
Formerly the old Perry School, the building was dedicated on February 19, 2006 to the memory of Eric Pierce Staples. Born in 1905 in Roopville and educated in west Georgia, Staples arrived in Perry in 1933 from a teaching and coaching position at Tallapoosa to become Principal and head basketball coach at Perry High School. Subsequently, in 1937, he was named the Superintendent of Perry Consolidated Schools.

A believer in higher education, Staples studied law at Mercer University, was admitted to the Georgia Bar in 1936 and earned a Master of Arts degree from Mercer in 1939. In 1969, his retirement capped 36 years of achieving educational prominence and 32 years of building the greatest basketball dynasty in Georgia history.

Known as "Fessor" by his students, he was a friend to all, constantly inspiring classroom excellence and distinguishing the Perry school system through strong academic programs, first place literacy teams, athletic championships and preparation of students for life's journey.

He served as Director of the Georgia Education Association and was President of the Georgia Secondary School Principal's Association. In athletics, he set the standard for superb coaching and was commonly regarded by sportswriters as "Georgia's Mr. Basketball." Mr. Staples was a recognized leader in service to the Perry community, being named Kiwanis Man of the Year twice and Civitan Citizen of the Year, presented with Scouting's Silver Beaver Award and the DAR Award of Merit.

Ever faithful to his Christian beliefs, he taught the Men's Bible Class at Perry Methodist Church for 38 years. In 1984, he was laid to rest beside his beloved wife, Chloe Traylor Staples, in Perry's Woodlawn Cemetery. "Fessor" touched the hearts and molded the character of countless young people who continue to remember him and the glory days of old Perry High School.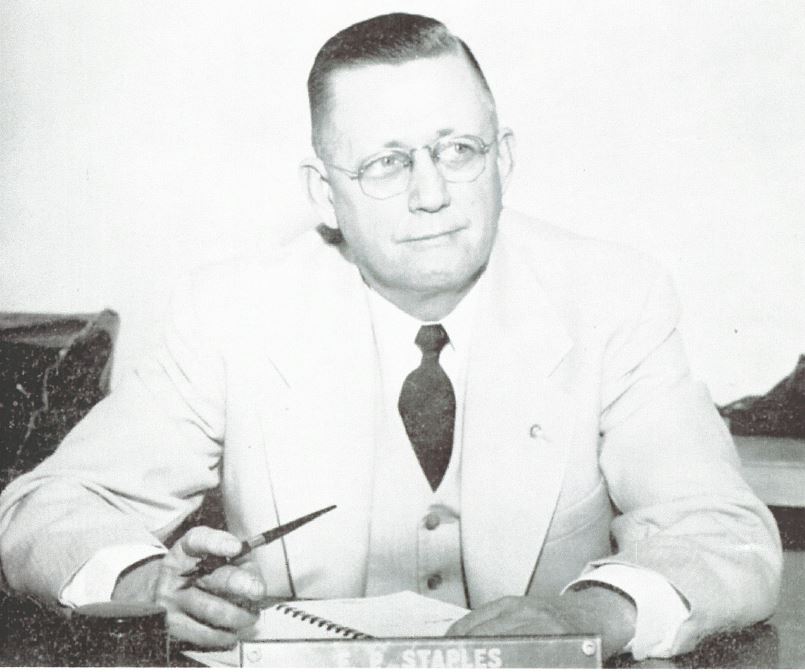 Biographical information:

--Born in Roopville, CarrollCounty, October 12, 1905

--Died in Perry, May 25, 1984, at the age of 78

--Perry High School Principal: 1933-1936

--Supervising Principal of Perry Consolidated Schools: 1937-1969

--Head Boys' Basketball Coach: 1933-1965



Basketball Coaching record:

--Winningest Basketball Coach in America during his lifetime

--924 wins and 198 losses, 82.4 percent winning percentage

--9 state championships: 1947, '49, '53, '56, '59, '62, '63 and '64

--25 district and region titles



Citation for plaque:

This building, formerly the old Perry schoolhouse, is dedicated in memory of Eric P. "Fessor" Staples, 1905-1984. Students endearingly called Professor Staples "Fessor" because they could not pronounce "professor." Staples was a renowned educator, who inspired excellence in the classroom and distinguished the Perry school system through its strong literary teams, academic achievement, and preparation of its students. He was the coach of the famous Perry High Panther basketball dynasty from 1933 to 1965 in which Perry became the Basketball Capital of Georgia. Staples was inducted into the Georgia Sports Hall of Fame in 1957, the Georgia Athletic Coaches Association Hall of Fame in 2002, and was widely known as the "Dean of Georgia Basketball Coaches." He was an outstanding civic and church leader, receiving many community service awards and teaching Sunday School for over 40 years. Under his inspiration and leadership, the Perry schools turned out many successful individuals in all walks of life. Further, he touched the hearts and molded the character of countless young people who love him to this day. Remembrance of the glory days of old PHS and pride in the Perry Panther basketball teams still glow brightly in the hearts of all Perry High alumni, fans, and supporters.



Inscription to go on plaque regarding HCBE:

All PerryHigh School alumni and Perry citizens are deeply appreciative to the Houston County Board of Education for naming this building in honor of Mr. Staples and hereby express their everlasting gratitude to the school superintendent for his pro-active support and to all board members for their unanimous vote on October 11, 2005.

School Superintendent: Danny Carpenter. Board Members: Pamela Greenway-Chairperson, Griff Clements-Vice Chairperson, Jim Boswell, Skip Dawkins, Dr. Toby Hill,Tom Walmer, and Fred Wilson

Note 1: Billy Powell has written a book about Coach Staples and Perry's basketball dynasty from 1933 to 1965. Entitled "Pride of the Panthers," the book will be submitted to Mercer University Press in December.

Note 2: October 12, 2005, will mark the 100th anniversary of Coach Staples' birth.



A Tradition of Excellence - Remarks from the Dedication Ceremony on September 8, 1996

"The hopes and dreams of years passed have been realized. The new school building stands as a memorial to the noble efforts, personal sacrifices, educational ideals of the good people of Perry and surrounding communities. No other people have done more for the cause of education in the same length of time than has been done in this school district...LET US MAKE OUR SCHOOL SECOND TO NONE."

With these words Superintendent James M. Gooden welcomed students to the first session of Perry Consolidated School in this histortica building. His call for excellence has echoed through seven decades as educators in Houston County have continued that dream.

Dreams to consolidate the resources and students of many small local schools became feasible in 1924 with the passage of a legislative act creating a Perry Consolidated School District. Subsequent bonds raised $85,000 and contracts were let to architect Wm. J.J. Chase and builders at Winder Lumber Company.

The Grand Opening, a week-long celebration, began with a May Day Festival and ended with commencement exercises for 27 members of the class of 1925 who had attended high school in Houston Female College. Community pride in the new school and the determination to provide a better education for all children resulted in a September vote of 478 to 46 in favor of supporting public schools through taxation.

The building has since been in continous use under various names. Officially changed to Perry High School when Perry Grammar School was built, it then became Perry Junior High after the new high school opened in 1956. In the 70's, as Perry Annex, overflow classes from the elementary school returned here and were joined by departments of Special Education and Vocational Education. Finally, it became the Materials Center and Book Depository for Houston County.

Distressed when the old Perry landmark was slated for demolition, the Houston County Board of Education met with concerned citizens, city, county, and state officials to seek alternatives. This cooperative effort made preservation economically attainable. Architect Harold DeLoach redesigned the interior for office use while preserving as much as possible of the original exterior. Under the direction of Bill Loudermilk, the Houston County Board of Education Department of Facilities and the Georgia Department of Corrections furnished labor to completely renovate the facility which now houses the administrative officers of the Houston County Board of Education.

Brimming with good memories, these old brick walls withstood the phenomenal growth of war years and produced leaders of integrity for another generation. Voices of the past remind us, "Our students are the living messages we send to a time we will not see."

We who have profited from their commitment to excellence must continue that tradition.