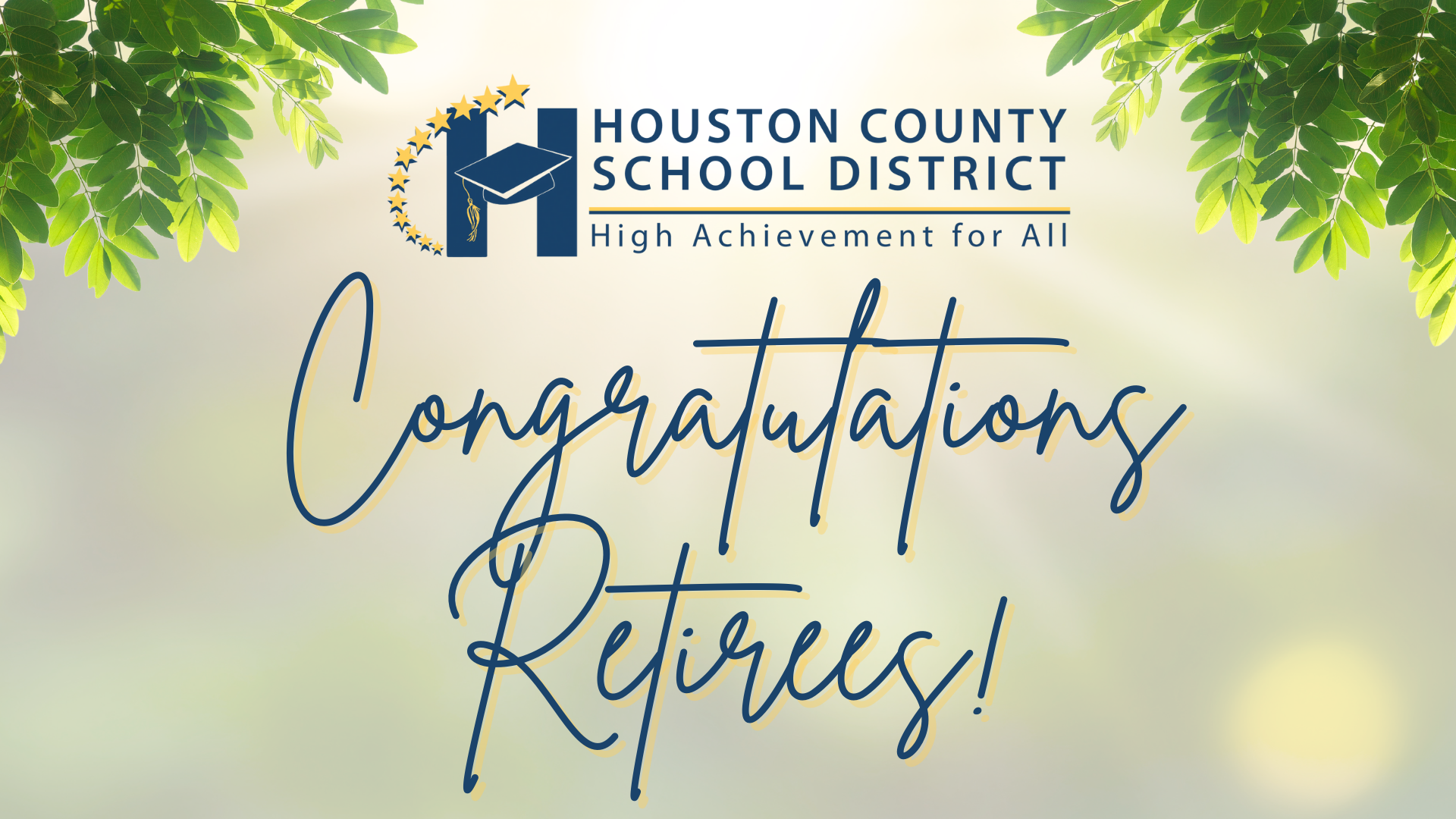 Congratulations to all of our 2022-2023 Houston County School District retirees listed below!
All retirees attending the 2023 Retirement Banquet are shown with an asterisk at the end of their name.
Updated list as of 4/24/2023. To be included in this year's Retirement Banquet, staff members must have met with Human Resources by April 12.
Caroline Adams, Pearl Stephens Elementary School
Mary B. Adkins, Morningside Elementary School
Becky Aikens, Langston Road Elementary School
Dianne Allen, Matt Arthur Elementary School*
Tami Atkinson, Transition Academy
Becky Bacon, Quail Run Elementary School*
Robert Bagley, Maintenance Department
Michele Barnwell, Feagin Mill Middle School
Michael Barrett, Warner Robins High School
Donnita Bellamy, Thomson Middle School*
Belinda C. Bennett, Mossy Creek Middle School
Andre'e Brown, Huntington Middle School
Walter Burch, Perry Middle School
Dr. Alicia Campbell, Student Services Department*
Paigh Chastain, Centerville Elementary School*
Brian Chestnutt, Houston County High School
Curt Clements, Houston County High School*
Patty Clements, Feagin Mill Middle School*
Patsy Clower, Quail Run Elementary School*
Tammy Conner, Perry High School*
Mark Cooley, Perry Middle School
Diane Costello, Kings Chapel Elementary School
Susan Cowart, Houston County High School*
Gloria Daniel, Parkwood Elementary School*
Linda Davis, Huntington Middle School
Lois Davis, Perry High School*
Melissa Dent, Huntington Middle School*
Julie Dimsdale, Matt Arthur Elementary School*
Tina Dixon, Miller Elementary School*
Cathy Dowdy, Russell Elementary School*
Yvonne Edwards, Lake Joy Elementary School*
Elizabeth R. Ethridge, Bonaire Middle School
Melissa Deanne Evors, Miller Elementary School*
Angela Terrell Ezell, Shirley Hills Elementary School*
Leah Falls, Bonaire Elementary School*
Maryann Fincher, Thomson Middle School
Tracy Ford, Huntington Middle School*
Hope Fordham, Warner Robins High School
Dr. Andy Gentry, Mossy Creek Middle School*
Betty Gilbert, Houston County High School*
Clayton Goodwin, Maintenance Department
Ashleigh Gravitt, Teaching & Learning Department*
Connie Greene, Thomson Middle School
Dr. Cynthia Hammond, Westside Elementary School*
Tanya Harden, Bonaire Elementary School
Jenna Harter, Teaching & Learning Department
Anna Henry, Langston Road Elementary School
Angela Herbel, Miller Elementary School
Barney Holley, Maintenance Department
Sylvia Holsey, Westside Elementary School*
Laurie Hood, Quail Run Elementary School
Dr. Joe Hutcheson, Northside High School*
Dr. Traci Jackson, Shirley Hills Elementary School*
Elizabeth Johnson, Miller Elementary School*
Christy Jones, Lindsey Student Support Center
Diana Jones, Perry High School*
Katherine Jones, Thomson Middle School*
Rosario Jones, Bonaire Elementary School
Melanie Jones, David Perdue Primary School*
Nathaniel Kendrick, CB Watson Primary School
Lee Lafferty, Warner Robins High School*
Blanche Lamb, Teaching & Learning Department*
Scott Lamb, Houston County High School
Linda Larramore, Houston County High School*
Amy Lauritsen, Matt Arthur Elementary School*
Russell Lawley, Northside High School
Kevin Littles, Transportation Department*
Donna Lowry, Pearl Stephens Elementary*
Daphne Masters, Lake Joy Primary School*
Betsy McCann, Northside Elementary School*
David McDermott, Teaching & Learning Department*
Dr. Rhonda McDuffie, Bonaire Middle School*
Nancy Miller, Facilities Department*
Lorenza Mitchell, Maintenance Department*
Joy Moneypenny, Lake Joy Primary School*
Willie Moss, III, Northside Middle School*
Brenda L. Mueller, Bonaire Elementary School
Marsha Myles, Warner Robins High School
Stephanie L. Nelms, Huntington Middle School
Janice Owens, Veterans High School*
Dr. Eric Payne, Teaching & Learning Department*
Dennis Peavy, Lake Joy Elementary School*
Sabrina Phelps, Houston College & Career Academy*
Marie Phillips, Northside Elementary School*
Nathan Pope, Jr., Northside High School
Stephanie Reeves, Lake Joy Primary School*
MaDonna Richards, Morningside Elementary School*
Gloria Robertson, Bonaire Primary School*
Susan Rodriguez, Teaching & Learning Department
Pat Rouse, Houston County WIN Academy*
Crystal Barbour Russell, Houston County High School*
Lorri Russo, Perry High School
Leslie Scarbrough, Bonaire Elementary School
Sheri Shaw, Parkwood Elementary School*
David Shepherd, Veterans High School*
Michael Short, Lake Joy Elementary School
Joseph Sikes, Thomson Middle School
Wanda Stafford, Hilltop Elementary School*
Christi Steese, Perry High School*
Jenni Stewart, Eagle Springs Elementary School*
Patrick D. Stokes, Maintenance Department
Dr. Gwendolyn Taylor, Huntington Middle School*
Charlotte Thomas, Mossy Creek Middle School
Donna Thublin, Bonaire Primary School
Lorne Tucker, Perry High School*
Marlene Turner, Houston County WIN Academy*
Teresa Tuten, David Perdue Primary School*
Jill Tyler, Russell Elementary School
Janie Washington, Houston County High School*
Kirk Watson, Huntington Middle School*
Lacine Williams, Centerville Elementary School
Ann Williams-Brown, Teaching & Learning Department*
Maria Willis, Houston County High School
Karen Yeager, Bonaire Middle School*
Avis Ezell Zanders, Bonaire Elementary School*
Melissa Zeuner, Warner Robins Middle School*